Special offer at Sports Corner and Adidas stores!
The special offer is now on at all Sports Corner and Adidas stores starting from December 27th, 2019 till January 31st, 2020.
These discounts include an amazing range of Footwear, Apparel, and Accessories from many brands like Adidas, Nike, Dynamic Sport, New Balance, Puma, Reebok, Under Armour…etc.
 Hurry up before stock runs out and visit Sports Corner nearest store in Tawar Mall, City Center, Markhiya, Wakra, Palms Mall, Lagoona Mall, Ezdan Mall – Wakra, Rayyan, The Mall, Al Khor, and Salwa Road.
And Adidas stores in Landmark Mall, City Center, Lagoona Mall, Doha Festival City, Mall of Qatar Villaggio Mall, and Adidas Factory Outlet – Ramada Signal.  
عرض خاص في فروع الركن الرياضي وأديداس!
عرض خاص بكافة فروع الركن الرياضي وأديداس بداية من 27 ديسمبر 2019 حتى 31 يناير 2020.
 تشمل الخصومات مجموعة منوعة من الأحذية، الملابس الرياضية والاكسسوارات من العديد من الماركات التجارية من أديداس، نايكي، ديناميك-سبورت، بوما، ريبوك وآندر آرمور.
سارعوا بانتهاز الفرصة، وزروا أقرب فرع للركن الرياضي في طوار مول، سيتي سنتر، المرخية، الوكرة، بالمز مول، لاجونا مول، إزدان مول الوكرة، الريان، المول، الخور وطريق سلوى.
ومتاجر أديداس في لاندمارك مول، سيتي سنتر، لاجونا مول، دوحة فستيفال سيتي، قطر مول، وفيلاجيو مول، وفاكتوري أوتليت.
FAQs
Till when this offer is valid?
 From 27th of December till 31th of January.
In which stores?
All Sports Corner and adidas stores in Qatar.
What is the opening time? And store locations?
Please check our store locator ( Store locations ) for nearest store and working hours.
What are the available brands?
Enjoy a Special Prices on selected collection of Top Sporting brands like Adidas, Nikes, Reebok, Under Armor, Puma and more.
What is the average of the price
Please, visit nearest store to review all available choices and prices.
Can I exchange or return the product during the sale?
Yes, you can return and exchange. (Some items are excluded per the law) Please call 40362211 for more details.
Can you assist me?
We are happy to receive your questions at 40362211. (From 10:00 AM to 10:00 PM – Friday 2:00 PM to 10:00 PM)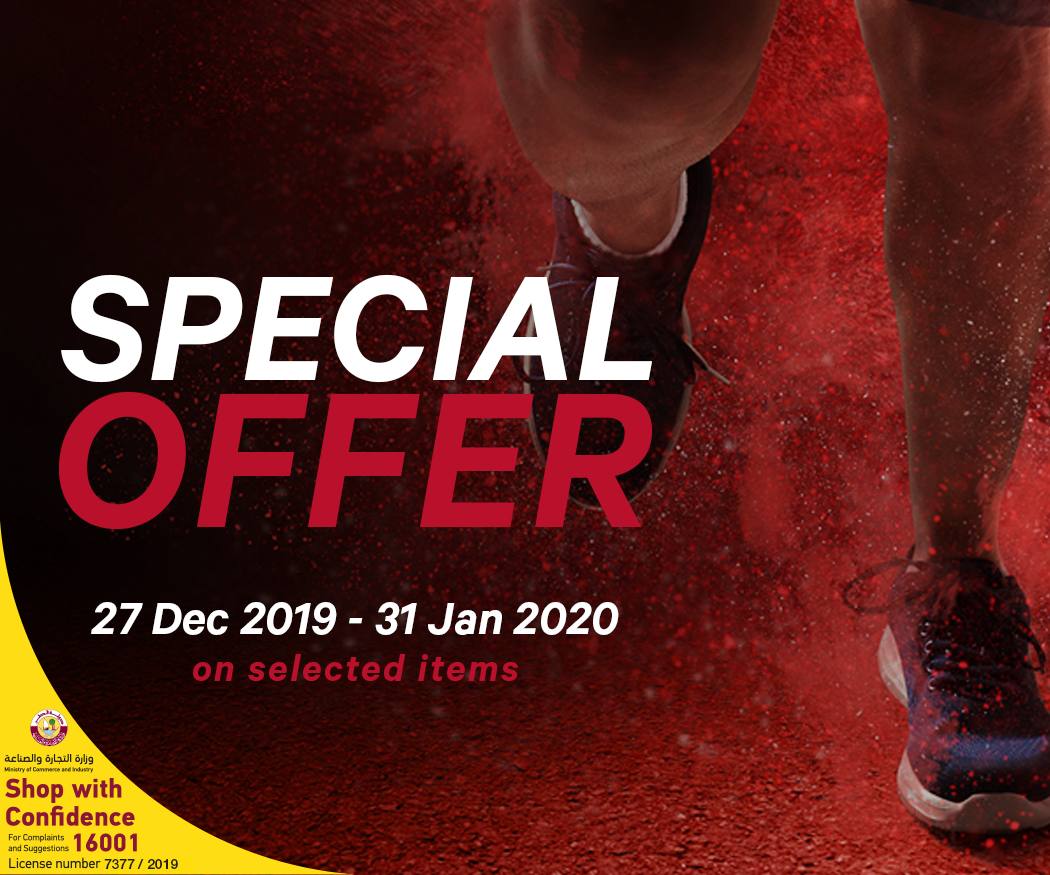 Customer Support Contact
403-62211